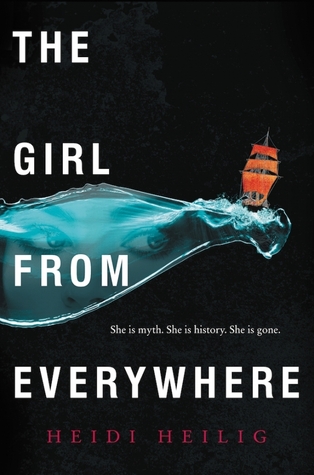 (image from Goodreads)
The Girl from Everywhere by Heidi Heilig
4 out of 5 stars
Any time, any place. Real or imaginary. If Nix and her father have a map, they can steer their ship there.
But when her father finds a map that will let him go back and save her mother, who died just after Nix was born, Nix worries that changing the past will effectively erase her life as she knows it.
The Girl From Everywhere is full of beautiful language and interesting characters. I especially love Bee, an African woman who blames the ghost of her wife for knocking over bowls and things.
It's clear the author researched and cares about Hawaii in the 1800s. The details are amazing.
And, because the crew of the Temptation can go to mythical places, there are lots of little magic objects and creatures.
The plot itself is a bit confusing at times, and I got a little lost sometimes with the time travel. I liked the complicated relationship between Nix and her father.
I also liked that, while there are romantic undertones at some parts, it was more along the lines of having a crush rather than "true love will save the world!" The latter I can enjoy every once in a while, but I appreciate when an author doesn't try to cram it in where it isn't needed.
All in all, a very nice book. As I excitedly told my mother last night, "This is the best book because it has like ten pages of author notes explaining the real history and myths!"